TEST 30 DAYS FREE

All unlimited, without any commitment
Data Room

0

€


per month
Repository of corporate information in the Cloud
Centralize and organize documents and corporate news
Share all the information with premium investors in the platform

Possibility to have a private space for the publication of intentions to buy and sell shares
PI Screen

49

€


per month
Repository of corporate information in the Cloud
Centralize and share documents and corporate news
Have a private page for investors within the corporate website of your company

Possibility to have a private space for the publication of intentions to buy and sell shares
PI Matching

89

€


per month
Repository of corporate information in the Cloud
Centralize and share documents and corporate news
Have a private page for investors within the corporate website of your company
Possibility to have a private space for the publication of intentions to buy and sell shares
Do you want to have all documentation organized?
Are you an unlisted company with several shareholders?
Do you want to keep your investors easily informed?
Are you looking to securely have visibility to new investors?
Are you interested in leveraging the Smart Capital of your business?
Data Room
Free service that provides a repository of corporate information in the Cloud
Centralizes important corporate information with unlimited historical space
Facilitates having organized documentation, saving time and costs in processes of:

Due Diligence
Risk analysis

You can also share information with investors who are on the platform and Premium customers (Advanced, Professional, or Institutional Portfolio)
PI Screen
In addition to the advantages of the Data Room, one can:

Enjoy a private page within your corporate website where you can share, with potential investors as well as shareholders, information with whom you find appropriate to do so, or by custom groups
Communication information, news and historical documents and automate internal processes, reducing time and costs spent
Manage Google Analytics KPIs in an automated manner and have reminders to update KPIs
Manage meetings with shareholders and potential investors to facilitate communication
Harness the Smart Capital of the company through post-meeting tasks that allow one to easily track the commitments made by investors
Have a history of transactions that allow a theoretical valuation of the company at all times.
PI Matching
In addition to all of the features of the PI Screen, this offers a private section where one can:

Facilitate the exit to initial investors
Allow the entry of potential investors that have previously been authorized
Get a realistic and updated valuation of the company
Update transaction processes automatically
All, of course, in a secure environment and most importantly, completely compliance
Some advantages of our services:
Profile and Business Needs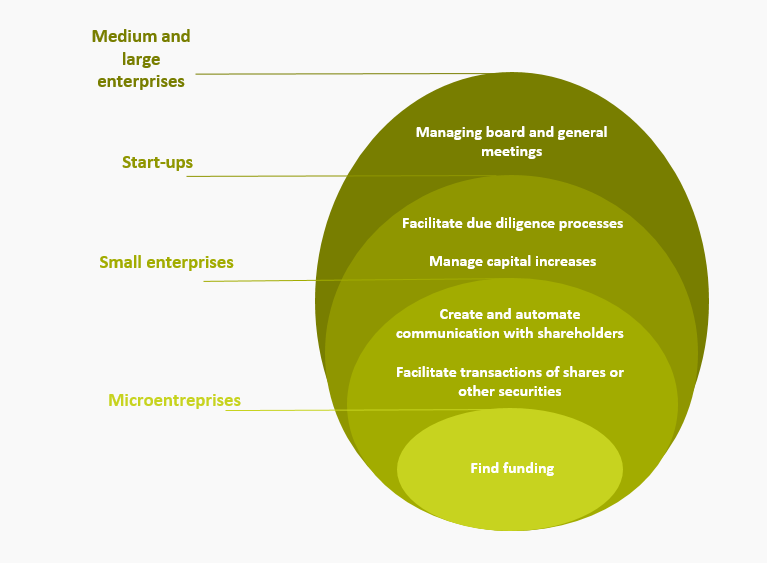 Can I sign up for more than one service on the platform?
The services accumulate in functionalities, thus if you have the PI-Matching profile, for example, you have the right to every feature included in the other three services preceding it. If you have any doubts about the service that best fits you, we would advise you to choose the service that covers all of your needs without overpaying
What type of companies can use the platform?
Any company of any sector or size that is not publicly traded and has a group of shareholders. These may include:
Startups
SMEs
Family businesses
Big enterprises
Information management may be performed by the company itself or other service companies such as law firms, financial consultants, auditing firms, managers, etc.
Is there any type of discount or special price available?
Yes, there are discounts for annual contracts and alternative special pricing for startups. Consult us for more information.
How can we help you?
You can contact us through this form, or call us through the number available at the top of the page.
Thank you very much for visiting us.